Ever since I was little I can remember my parents dehydrating things like apples and strawberries. My parents would lightly sprinkle things like cinnamon and sugar or different flavors of Jell-O on top of the apples and the whole house would smell so good as they dried. All I knew about dehydrating then was there was going to be a yummy treat the next night. I was excited to learn about dehydrators when I decided to dehydrate my own foods. Dehydrators have changed quite a bit since then. They are much more efficient and user-friendly and take up much less space.
I will help you learn what you need to know about dehydrators so that you will know exactly which one to buy. 
What is dehydrating?
Dehydrating is a form of food preservation that uses a combination of heat, fans, and vents to remove the moisture in foods to an extremely low level. Dehydrating removes 85-95% of the moisture which aids in improving the shelf life by hindering the growth of bacteria, mold, and yeast all while maintaining up to 50% of the nutritional value.
How does dehydrating work?
Dehydrating uses low heat (between 130*- 167* F) combined with a steady flow of air through vents and fans to circulate the air for an extended period of time to remove the moisture from food by evaporation. The warm air flowing over the food speeds up the surface evaporation while the warm temperature of the food causes it to release moisture from inside. Because of the low heat temperature, it does not cook the food, it just releases the moisture to aid in the evaporation process.
How long does dehydrating take?
Dehydrating food can take anywhere from 5-38 hours. There are a few different factors that come into play when deciding how long dehydrating will take. 
Thickness/Moisture level 
Humidity
Machine Wattage
Temperature 
Type of Dehydrator
1. Thickness/Moisture level – Depending on the thickness and amount of moisture the food item you are dehydrating contains, your time can be longer or shorter than the recommended times. Refer to the manual that comes with your specific dehydrator for recommended times based on specific foods.  
2. Humidity – The humidity level of your home can be a big factor in dehydrating times. The higher the level of humidity the longer it will take. The less humidity the less time it will take. Things that can affect the humidity are rainy or stormy weather, using a swamp cooler instead of air conditioning, and the climate where you live in general. 
3. Machine Wattage – The wattage of your machine can determine the amount of time it takes. The lower wattage the longer it will take. The higher the wattage the faster it will be. This does not mean you need a bigger higher wattage machine. You may just need to do smaller batches or it might take a little longer to dry.
4. Temperature – Some dehydrating machines let you have control of the temperature. This may be desirable for some. All foods dehydrate at different temperatures. If you plan on doing a wide variety of food you'll want an adjustable thermostat. If your machine doesn't let you adjust the temperature, and it doesn't say in the manual you can use an oven thermometer to test the temperature so you know where your machine sets the temperature.
5. Type of Dehydrator – There are two types of home dehydrators. Vertical flow with the heating element in the bottom of the machine and horizontal flow with the heating element in the back of the machine.
What are the different types of food dehydrators?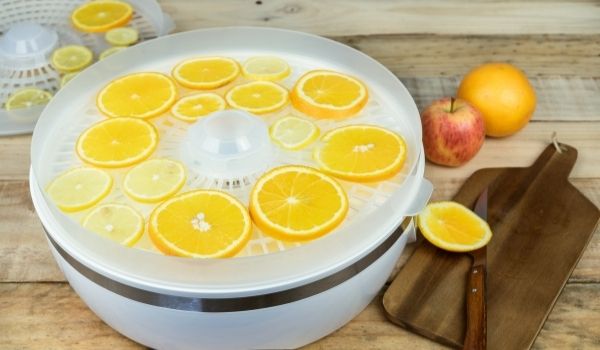 There are two different types of home dehydrators. 
Vertical flow
Horizontal flow
1. Vertical flow machines are usually stackable machines with the heat source in the bottom. These machines are a more affordable option and take up less counter/storage space.
Vertical flow machines tend to dry slower than horizontal flow machines and may require you to rotate trays as you go. This is just because of the construction of the machine with the heat source at the bottom. The top trays won't get as much heat as the bottom trays so rotating trays partway through can help with drying time. 
These machines are most commonly used for fruits and vegetables but don't work as well for meats.
2. Horizontal flow machines have a more even flow of air through the trays with the heat source in the back of the machine. 
While these machines are more expensive and can take up more counter space, horizontal flow machines' drying time is generally faster than vertical flow machines. 
Horizontal machines do however cost more and take up more counter/storage space but are more commonly used for meat as well as heartier vegetables and bigger batches.
How much does a food dehydrator cost?
Home food dehydrators can range anywhere from about $40 for small vertical flow units up to $600 for commercial-sized units. The price depends on the type and size of the dehydrator you want to get. Vertical flow dehydrators are generally cheaper. For most home dehydrators you can expect to spend anywhere from $50 to $200.
Best Food Dehydrators for Any Circumstance
Check the price of each dehydrator on Amazon by clicking on the link that is under the name of each dryer in the table below.
Best Food dehydrator Under $100
Elechomes 6-Tray Dryer
Why is the Elechomes 6- Tray Dryer the best dehydrator under $100?
Here's why…
400 Watt machine (on the higher end for smaller machines)
6 transparent plastic trays- easy to see through to keep an eye on things
Tray heights are adjustable to accommodate different foods
Adjustable thermostate- you can set the temperature exactly where you want it
Adjustable timer- anywhere from 30 minutes to 72 hours
Trays are dishwasher safe
Fits on the counter nicely 11.6 X 11.4 X 10.9 (LWH) 
Light weight- 5lbs. 
Comes ready to use
Is buying a food dehydrator worth it?
Buying a home dehydrator is worth the cost for anyone who wants to provide a wide variety of shelf-stable foods as snacks or for long-term storage. While maintaining at least 50% of the nutrients these foods can be stored in airtight mylar bags, jars, or air-tight containers. Dehydrated foods make great healthy snacks as well as great long-term food storage when stored properly.
Worth it:
Interested in making healthy dehydrated foods for snacks
Interested in storing food long term 
You want to have complete control over what foods you are dehydrating and storing
You want to store foods that can last on your shelf for 5+ years when stored properly. 30+ years if stored vacuum sealed
You have the space to store dehydrated foods in you pantry, storage room, closets or other areas.
You like to be prepared with food storage on hand
Not worth it:
You don't plan to use regularly
You don't have access to fresh produce 
You don't have extra room to store food long term
How much does it cost to run a food dehydrator?
| Power in Watts | Energy in Kilowatt-hours | Electricity Cost |
| --- | --- | --- |
| 100 W | 0.1 kWh | $0.012 per hr |
| 200 W | 0.2 kWh | $0.024 per hr |
| 300 W | 0.3 kWh | $0.036 per hr |
| 400 W | 0.4 kWh | $0.048 per hr |
| 500 W | 0.5 kWh | $0.060 per hr |
| 600 W | 0.6 kWh | $0.072 per hr |
| 700 W | 0.7 kWh | $0.084 per hr |
| 800 W | 0.8 kWh | $0.096 per hr |
| 900 W | 0.9 kWh | $0.108 per hr |
| 1000 W | 1 kWh | $0.112 per hr |
Watts to Kilowatt-Hours (kWh) Electrical Conversion Calculator
What kind of dehydrator should I buy?
The 4 things you should keep in mind when picking a dehydrator are
How many shelves/size you want
How often you are going to use it
The amount of counter space you have available
Vertical or horizontal flow.
The best dehydrator keeping all of these options in mind is the COSORI Premium Food Dehydrator (Check the price on Amazon). It isn't too big, has plenty of shelf space, is horizontal flow, and is built to last. This dehydrator will also do jerky without any problems.
1. The amount of food you want to dehydrate will help you decide what size dehydrator you will want to get. If you want to do bigger batches to build food storage you'll want to get a bigger dehydrator. 
2. If you just want to use it for snacks here and there a smaller dehydrator will work great. Purchasing prepackaged dehydrated foods can be expensive so even if you plan on just using it a handful of times a year it can still be cheaper than buying prepackaged dehydrated foods.
3. If you live in a smaller house or apartment and don't have a ton of space a smaller dehydrator would probably be better. If you have space in your garage you could potentially fit a commercial size dehydrator that can help produce a large amount of dehydrated food at a time. 
4. Vertical flow or horizontal flow? Vertical flow is usually less expensive and has lower wattage. It has a heating element and fans at the bottom of the unit. This usually causes the bottom shelves to dry faster than the top shelves so it will require you to rotate the shelves to get all shelves evenly dehydrated. Horizontal flow is usually more expensive and has a higher wattage. It has a heating element and fans in the back of the unit which creates a more even airflow and is more efficient.
Tips and Foods to Dehydrate
To see a comprehensive list of what can and cannot be dehydrated see my article What Foods Can and Cannot be Dehydrated: Complete Guide.
The below table outlines temperature settings for each type of food that you can dry.
| Temperature Settings | Uses |
| --- | --- |
| 95*F | Herbs, Flowers, Dough |
| 104*F | Yogurt |
| 113*F | Soft Vegetables |
| 122*F | Hard Vegetables |
| 131*F  | Citrus Peel |
| 140*F | Fruit |
| 149*F | Fish |
| 158-167*F | Meat Jerky, Fruit Rolls |
See your dehydrators manual for specific details for your dryer
The below table lists what foods can be dehydrated, preparation, dryness test, and dehydration time. 
| Name  | Preparation  | Dryness Test | Time, Hours (approx.) |
| --- | --- | --- | --- |
| Apples | Peel, core and cut into slices or rings | Pliable  | 5-6 |
| Apricots  | Cut in half or in slices, remove the pit | Pliable  | 12-38 |
| Bananas | Peel and cut into 3-4mm slices | Crisp  | 8-38 |
| Cherries  | Pitting is optional, or pit when 50% dry | Leathery | 8-34 |
| Cranberries | Chop or leave whole | Pliable | 6-26 |
| Red Dates | Pit and slice | Leathery  | 6-26 |
| Figs | Slice | Leathery | 6-26 |
| Grapes | Leave whole | Pliable | 8-38 |
| Nectarines | Cut in half, dry with skin side down. Pit when 50% dry | Pliable | 8-26 |
| Orange Rind | Peel in long strips | Brittle | 8-16 |
| Peaches | Cut in half, dry with skin side down. Pit when 50% dry  | Pliable | 10-34 |
| Pears | Peel and slice | Pliable  | 8-30 |
| Strawberries  | Cut into ⅜" slices, other berries whole  | No moisture | 8-26 |
| Mango | Remove skin, slice ⅜" thick | Leathery | 6-16 |
| Artichokes | Cut into ⅓" strips. Boil about 10 minutes | Brittle | 6-14 |
| Asparagus | Cut into 1" pieces | Brittle | 6-14 |
| Green Beans  | Cut and steam/blanch until translucent | Brittle | 8-26 |
| Beats | Blanch, cool, remove tops and roots, slice | Brittle | 8-26 |
| Brussel Sprouts | Cut sprouts from stalk, cut in half lengthwise | Crisp | 8-30 |
| Broccoli | Trim and cut. Steam/blanch 3-5 minutes | Brittle | 6-20 |
| Cabbage | Trim and cut into ⅛" strips. Cut core into ¼" strips | Leathery | 6-14 |
| Carrots | Steam until tender. Shred or cut into slices | Leathery | 6-12 |
| Cauliflower | Trim and cut. Steam/blanch 3-5 minutes. | Leathery | 6-16 |
| Celery | Cut stalks into ¼" slices | Brittle | 6-14 |
| Chives | Chop | Brittle | 6-10 |
| Cucumber | Peel and cut into ½" slices  | Leathery | 6-18 |
| Eggplant/Squash | Trim and slice ¼" to ½" thick | Brittle | 6-18 |
| Garlic | Remove skin from clove and slice | Brittle | 6-16 |
| Hot Peppers | Dry whole | Leathery | 8-14 |
| Mushrooms | Slice, chop or dry whole | Leathery | 6-14 |
| Onions | Slice thinly or chop | Brittle | 8-14 |
| Peas | Blanch for 3-5 minutes | Brittle | 8-14 |
| Peppers | Cut into ¼" strips or rings. Remove seeds | Brittle | 4-14 |
| Potatoes | Slice, dice, or cut. Steam/blanch 8-10 minutes | Brittle | 6-8 |
| Rhubarb | Remove outer skin and cut into ⅛" slices | No Moisture | 8-38 |
| Spinach | Steam/blanch until wilted | Brittle | 6-16 |
| Tomatoes | Remove skin. Cut in half or slices | Leathery | 8-24 |
| Zucchini  | Slice into ¼" slices | Brittle | 6-18 |