Heating Emergencies including power outages or broken furnaces seem to happen at the most inconvenient times and can often be caused by bad and/or cold weather conditions. Those who are prepared with alternative emergency heating solutions and procure the best indoor heaters that don't require power/electricity will stay warm even during the coldest nights during a power outage.
How do you heat your house in an emergency (power outage)?
The best way to heat your home in an emergency is to use indoor safe propane, Kerosene, and alcohol heaters that have been labeled as "indoor-safe" and the manufacturer's instructions are carefully followed. Safety procedures are critical to follow when using these types of heaters indoors. Other heating options include wood-burning stoves, gas stoves, using a generator, and various DIY methods.
I keep indoor safe portable propane heaters, an alcohol heater, several DIY heating options, a gas stove, a generator, and electric space heaters on hand to ensure that my family has enough emergency heating and various options of heaters for a power outage.
The 13 Best Indoor Alternative Heating sources for Homes During During an Emergency
Indoor Safe Portable Propane Heater
Wood Burning Stove or Fireplace
Alcohol Heater
DIY Terracotta Pot Heater (Canned Heat or Candles)
Indoor Kerosene Heater
Gas Stove
Passive Solar Heating
Hand/Foot Warmers, Warm Clothes, and Blankets
Heated Rocks
Use a Generator
Electric Space Heater
Insulate Home and Block Drafts  
Keep Outside Doors Closed
Best Backup Heaters for a Power Outage
Mr. Heater Buddy Heaters
Woodburning Fireplace
DIY Terracotta Pot Heater
Indoor Safe Kerosene Heater
In addition to keeping warm when the power goes out it is also critical to know how to boil water and how to safely cook indoors during an emergency so that you can continue to provide hot meals for your family even without electricity.
1. Indoor Safe Portable Propane Heater
Indoor-safe propane heaters are one of my top choices for alternative emergency heaters. I own a few different propane heaters but my favorite is the Mr. Heater's Buddy heaters and I own two of them. 
Because they are propane heaters I was a little skeptical at first about using them indoors but after testing them I have found them to be safe and work well inside my home. However, I still won't let them run all night, out of caution, but they have been a safe and effective way to heat parts of my house when I've needed to.
Mr. Heater Buddy Heaters (Radiant Heater)
4,000 / 9,000 BTU | Heats at least 225 sq. ft. | Auto shut-off if tipped over or detects low oxygen
Best Features Include:
Heats 225 sq. ft. but I have found it to work in a space up to 300 sq. ft.
4,000 / 9,000 BTU of radiant heat
Runs on 1 lb. propane cylinder(s)
low & high heat settings
Runs for up to 5.4 hours on low & 2.4 hours on high
Auto shut-off if tipped over, if the pilot light goes out, or if detects low oxygen levels
Check the price of the Buddy Heater on Amazon
In addition to heating my home during a power outage or emergency, I have also used the above propane heater to heat my garage and also out camping. It is a versatile heater that I have been able to use extensively.
---
2. Wood Burning Stove or Fireplace
Another great way to heat your home in an emergency is to install a wood-burning stove. I grew up with a wood-burning fireplace and stove. I remember storing and cutting firewood for the winter months in addition to our regular natural gas-powered furnace. Cutting firewood and manually starting fires seemed like an annoyance to me until we experienced emergencies like power outages. When these power outages occurred our wood-burning fireplace was a lifesaver!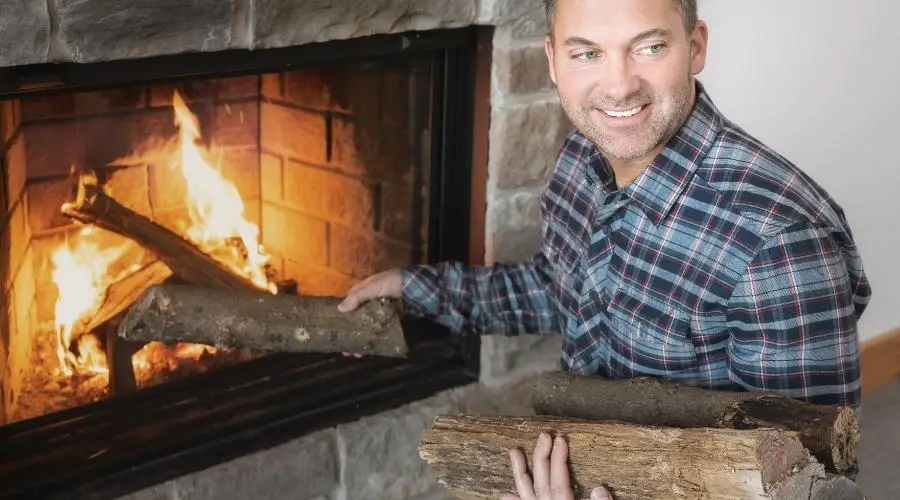 A fireplace and wood-burning stove can be life-saving when needed during a cold day when the power goes out. They are perfect for heating a house and cooking a warm meal! If it is reasonable for you to have a wood-burning fireplace or stove I'd suggest putting one in your house with the proper chimney and ventilation for the smoke. 
In some circumstances adding a wood-burning fireplace can be very expensive or unreasonable but don't worry there are other ways to heat your home without power.
If you are interested in a wood-burning fireplace you may want to check to see if it is EPA-approved. You can see if it is approved by checking the certification label, it will state if the stove or fireplace is EPA approved. EPA also publishes a list of approved wood and pellet stoves. See the current list.  
Ashley Hearth Wood Burning Fireplace
152,000 BTUs
Heats up to 3,200 Sq. Ft.
Fits logs up to 18″ – 22″ in length and holds up to 30 lbs. of wood
EPA Certified
Check the Price of the Ashley Hearth Wood Burning Fireplace on Amazon
---
3. Alcohol Heater for Emergencies
Alcohol heaters aren't in large supply but they can be an effective and safe way to heat areas in your home during an emergency. Alcohol stores long-term (indefinitely) and burns clean making it a good option for heating and cooking when you don't have power. 
The Dometic ORIGO Heat Pal 5100 (check price on Amazon) is a non-pressurized alcohol heater and stove combination. It weighs only 5 pounds, making it easily portable. This and other alcohol heaters are fueled by denatured alcohol which burns cleanly and is safe to burn indoors.
This little alcohol heater will put out 5,200 BTUs. One quart of denatured alcohol will provide about 5 hours of burn time on the highest setting.
Denatured alcohol is a very clean fuel to burn indoors. Be sure to always provide adequate ventilation when burning anything to replace oxygen consumed by the flame. Alcohol is a good storage fuel due to its indefinite shelf life.
---
4. DIY Terracotta Pot Heater (Canned Heat or Candles)
Use a little creativity to keep your house warm during an emergency by using canned heat or candles and a terracotta pot. Using a Terracotta Pot, canned heat or candles, and a folding stove can provide heat for a small area in your home. Huddling around it can provide heat for a small group of people.
What you'll need:
Canned Heat or teapot candles
Terracotta Pots (a smaller one that can fit in a larger one)
Folding stove
Piece of tin foil
Check out this 6-pack of Canned Heat on Amazon
Canned heat is one of our favorite indoor fuels because of the following: 
Inexpensive
Burns clean 
Stores safely 
5 Step DIY Terracotta Pot Heater
Here is a DIY heater you can easily create using a couple of different-sized terracotta pots, a portable folding stove, and canned heat or teapot candles.
Set up the folding stove
Place the smaller pot upside down on top of the stove
Cover the hole with something non-flammable to prevent the heat from escaping. A piece of foil works well
Place the larger pot on top the same way
Remove the lid from the canned heat, place the fuel inside of the stove, and light it or light a couple of teapot candles
The heat is channeled through the pots and a convection current is created providing a nice localized heat. A Terracotta Pot Heater will not heat up an entire room but it does provide a nice warm heat source that can take the chill off of an immediate small area.
A Terracotta Pot Heater is an inexpensive tool for both heating and cooking in an emergency when resources, finances, and space are limited.
---
5. Indoor Kerosene Heater
Kerosene Heaters are a good option for emergency heating when your house is without electricity or your furnace breaks. They burn clean and the newer ones have safety features, such as shutting off if they're tipped over, which makes them safe to heat rooms inside your home. 
Whether you want a cheaper way of zone heating your home or if you simply need a backup heating solution for power outages in the winter months, you should check out the Sengoku CTN-110 KeroHeat 10,000 BTU Portable Radiant Kerosene Heater on Amazon.
This heater is highly portable and has a small size, but despite being compact, this is a powerful 10,000 BTU heater that is able to heat larger rooms in your home.
The 1.2-gallon fuel tank allows you to run this heater for up to 14 hours without needing to refuel, offering you convenience when you need it. It comes with a siphon pump so that you can empty the tank when you want to move or store the heater and it also comes with 4 C sized batteries, which are required for operation.
Click here to check the price of this Kerosene Heater on Amazon
Don't forget to store enough Kerosene to keep your heater running for an extended period of time. Kerosene heaters are very useful but only if you have enough Kerosene to keep them going! Check out this Kerosene Fuel on Amazon.
---
6. Gas Stove
Consider using a gas stove to heat an area in your kitchen if you have one or consider getting a gas stove when you purchase your next stove. Our gas stove makes us feel a little more at peace because we can use it even during a power outage. 
A gas stove may not heat an entire kitchen but there are ways you can reflect heat from your burners out using tin or something similar.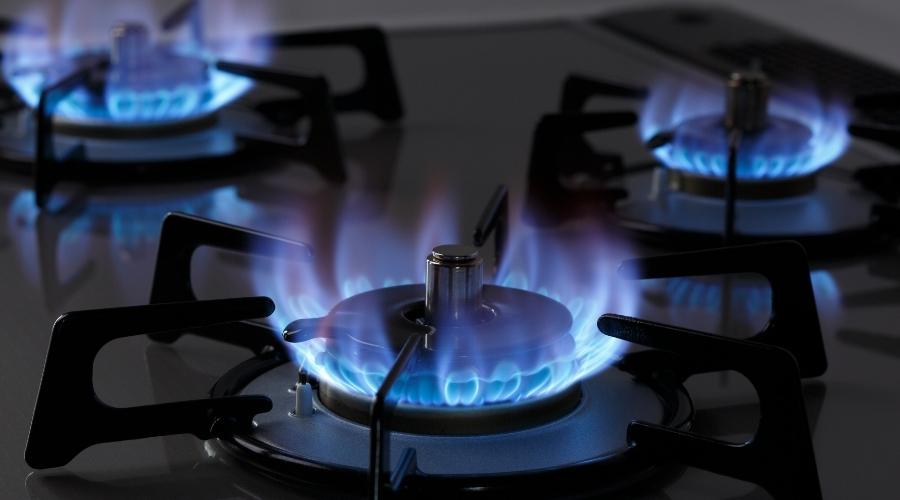 The best thing about having a gas stove during a power outage is that we can still boil water and cook food.
Benefits of a Gas Stove:
Boil water and cook during a power outage
Use burners to reflect heat
---
7. Passive Solar Heating Using the Sun
Passive Solar Heating involves using south-facing windows to collect solar energy from the sun shining in through the window to store energy (heat) in "thermal mass" which includes things like concrete slabs, bricks, tile, water, rocks, or other similar dense material. See WBDG.org for more information on Passive Solar Heating.
What you'll need:
South-facing windows/glass in your home
Concrete slabs, bricks, tile, jugs of water, rocks, or a similar dense material
To take advantage of solar energy by opening the blinds on the south side of your home when the sun is intensely shining. Effectiveness may be increased by placing "thermal mass" in the path of the sunshine to absorb the heat.
Be sure to close the blinds or drapes when the sun is not shining to increase the insulation (keep hot air in and cold air out). The warmed thermal mass will radiate the heat back into the room during the night.
---
8. Hand/Foot Warmers, Warm Clothes, and Blankets
Hand warmers may not heat your home but they are a good alternative way to warm up your hands, feet, and body by placing them in various parts of your clothes. We keep a few variety packs of HotHands Hand & Toe Warmers (check the price on Amazon)  
In addition to hand and foot warmers, I have also used the pill and stick body warmers. You can stick them to your shirt and put a jacket/coat on over them. They help keep your body warm under your outerwear. We've used them while camping in cold weather and even put them on and then climbed in our sleeping bags. We found them to be pretty helpful in keeping our kids warm in our sleeping bags.
Check the price of the HotHands Body Warmers with Adhesive on Amazon
We found that the HotHands hand, foot, and body warmers seemed to last for about 10 hours and only take about 10 minutes to heat up.
It is important to have good quality cold-weather undergarments, coats, sweatshirts, pants, boots, gloves, socks, and other winter outerwear. In addition to your regular cold-weather outerwear include some additional clothes in your go bags.
Lastly, it is important to keep extra blankets that are thick and warm in your home, in your cars, and go bags. Here is a great blanket that you can use even outdoors in bad weather (check the price on Amazon).
---
9. Heated Rocks
A creative way to warm up small areas of your house is to heat up medium-sized rocks using a fire outside. This technique takes a little work and isn't my favorite but it can provide a little heat.
What you'll need:
Firepit
Firewood 
Matches or lighter and something that ignites easily to help the wood catch fire
Medium-sized rocks
Gloves to move the rocks once they are hot
Old towels to rap the rocks in and take inside your house
How to heat and use rocks:
Build an outside fire in your yard
Find medium-sized rocks that you can easily pick up and handle
Place them right next to the fire
When hot, pick up the rocks using thick gloves to avoid getting burnt
Use an old toil or something similar to rap up the rocks
Place rocks inside and huddle around them for warmth
---
10. Use a Generator
Consider a generator as an alternative power source to power electric space heaters as well as other appliances in your home during an emergency. With a little help from an Electrician, for not much more than a couple of hundred dollars of labor, you can get a transfer switch setup off of your home's electrical panel for a backup generator. This way you can tie the power output from a generator right into the electrical panel of your home. 
Then according to the Wattage output of the generator, it will power what you want in your home and you won't have to worry about running power cords through a window or door which would allow precious heat to escape from your home. 
Make sure you ask your Electrician questions and know all best practices to safely tie in power from your generator to your home.
Best Generators to Use to Run Heaters During a Power Outage 
Champion Dual-Fuel 3800-Watt Portable Generator
Duromax XP12000EH 9,500-Watt Portable Generator
Champion Dual-Fuel 3800-Watt Portable Generator
3800 watts | 224cc Champion 4-Stroke Engine | 3.4 gallon tank | sound level – 68 dB | 119 lb.
Pros –
It will easily run a home furnace and most electric heaters
Dual fuel (Gas or Propane)
Runs for up to 10.5 hours on propane and 9 hours on a full tank of gas  
Cold-weather start 
Check the price of this Champion Generator on Amazon
This generator is loaded with plenty of power and features to help keep you warm during a power outage. In addition to its easy push-button start, its cold-start technology improves its ability to start in cold weather, which is especially useful when the power goes out due to cold weather. 
Features such as its cast-iron sleeve for durability, built-in surge protection, oil sensors, folding handle for storage, and variety of outlets also make it a great buy.
Champion Dual-Fuel 3800-Watt Portable Generator Review
---
Duromax XP12000EH 9,500-Watt Portable Generator
9,500 watts | 18HP 457cc OHV Engine | 8.3 gallon tank | sound level – 74 dB | 260 lb.
Pros –
Will easily run a home furnace and electric heater
Dual fuel
A 20-pound propane tank at 50 percent max output will provide 20 hours of power 
A full tank of gasoline at 50 percent will run for 10 hours
Heavy-duty frame
9,500 watts of output power
Cons –
Check out the price of this Duromax Generator on Amazon
With a maximum of 12,000 watts, this Duromax is one of the most powerful portable generators. Its dual-fuel capability allows it to run on propane or gas. While it has a user-friendly electric start, a recoil start is also optional. 
This generator's heavy-duty metal frame will protect it when outside in stormy weather, and the power panel includes individual breakers for safety. Though it's a heavy appliance, the solid-fill wheels will help you transport it around the house when necessary. All Duromax generators are also approved by both the EPA and CARB and have a three-year warranty.
---
11. Electric Space Heater
I included electric space heaters in this list of alternative heat sources to use during an emergency because they are an easy source of heat if you have a generator or other electric power source.
Also, it is important to consider other emergencies that could happen that don't include the power going out. For example, two years ago my furnace blower went out at 1 AM on Christmas morning. I still had power but the furnace didn't work. Luckily I could pull out a couple of electric space heaters and kept several rooms warm until I could get the furnace fixed.
---
12. Insulate Home and Block Drafts
Before choosing your preferred alternative heating sources to use during a power outage you should consider and ensure that your home is sufficiently insulated. It is not an alternative heat source for your home but it will help your home retain heat during a power outage and hopefully lower your power bill even just a little.
You can use foam board insulation on the external walls of your home to limit any heat loss. It is also helpful to find any air leaks and use caulking to seal the leaks which will prevent additional heat loss.
In addition to insulation, it is helpful to apply weatherstripping around your doors and windows.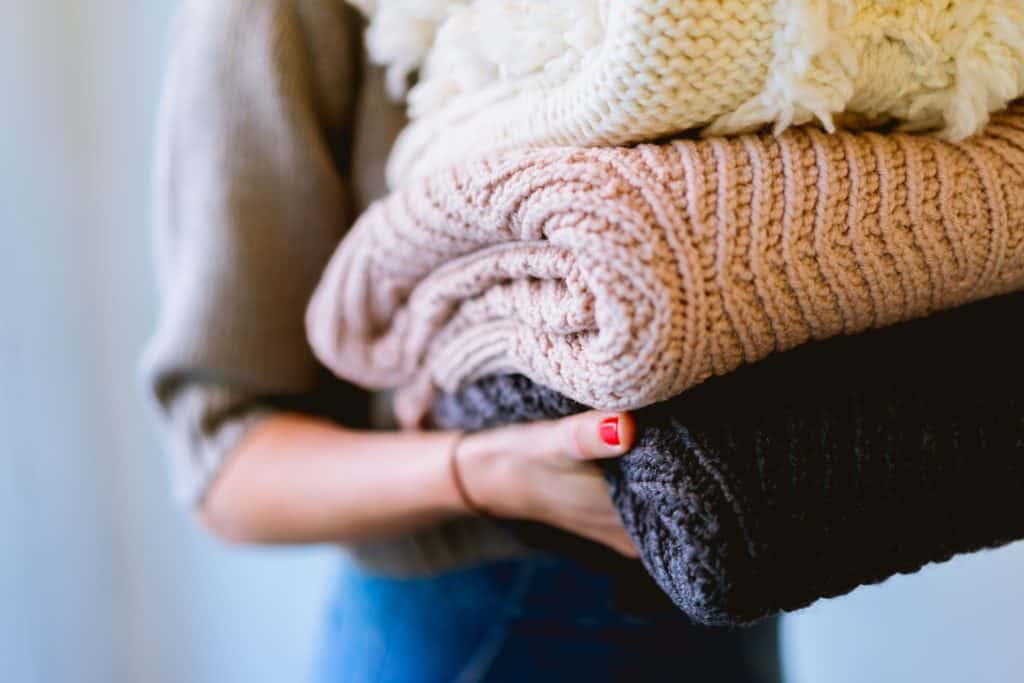 ---
13. Keep Outside Doors Closed
It may seem obvious but for non-electric heaters to work well without electricity it is important to keep outside doors closed. Also if you're trying to keep a specific room warmer than other rooms then you'll also want to keep the door to that specific room closed.
If you have kids this can be difficult but worth constantly reminding them. Opening a door for a second or two here or there probably won't matter too much but making a conscious effort to keep the doors closed will make a difference.
---
Conclusion and the Safety First Mindset
BE VERY CAUTIOUS as you decide which emergency heating methods to use to heat areas in your home! It would be awful to survive freezing cold temperatures during a power outage, just to have your family die from carbon monoxide poisoning, or in a fire, because of a mistake.
Any flame from propane, kerosene or other fuel sources may produce carbon monoxide as a result of incomplete combustion. Always have a working carbon monoxide detector with a digital readout nearby when burning anything in your home.
Start winterizing your home now, don't wait. Many utility companies will perform a home energy audit at little to no charge. It is a great way to have a professional give you a list of things to do for starters.
Regularly maintain your chimney and vents. Keep your roof in good repair. Insulate pipes exposed to the cold in the exterior walls or attic. Do not put off routine maintenance or you may regret it.
Check out the Database of State Incentives for Renewables and Efficiency and select your state to find what financial incentives are available to help you make your home more energy-efficient.
There are grants, rebates, and tax credits to help lessen the financial hit. Low-income programs may also be available to improve energy efficiency at little or no cost if you qualify. Take time to investigate what opportunities you may have to make your home more energy-efficient.
Stay safe and good luck!