Recently I was doing an inventory of our long and short-term food storage and I noticed that we had a wide variety of non-perishable foods that have a long shelf life. I felt great comfort and security knowing that I have a wide range of different types of shelf-stable foods.
I started to think of additional foods that I could add to my pantry and cold storage that would last for years and balance out my family's diet in the event of an unforeseen emergency. So I asked myself, what types of non-perishable long-lasting foods should I add to my long-term food storage?
Types of non-perishable foods that have the longest shelf life in storage include:
The best non-perishable foods that have the longest shelf life in your home food storage include freeze-dried foods, dehydrated foods, canned foods, frozen foods, grains, beans, nuts and seeds, sugars, and seasonings.
It is essential to plan ahead and know how much nonperishable food you should have stored for you and your family see our food storage calculator. Also, specifically, foods that last a long time without refrigeration.
There are several places that are good for buying shelf-stable foods including online (see the best places to buy bulk food online at a discount) or in-person grocery stores (see which grocery stores have the cheapest groceries) especially bulk food stores. We really like some Amish bulk food stores (see this list of 400+ Amish stores to find one near you).
---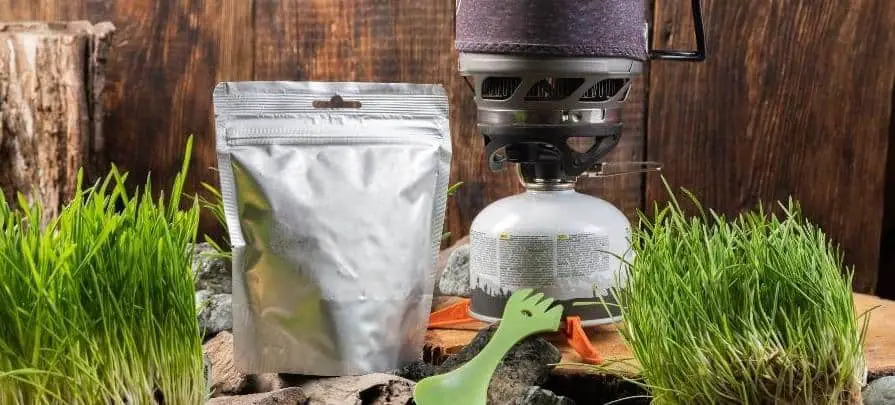 Freeze Dried Foods
One of the best foods to store long-term is freeze-dried food. Freeze-dried food can stay good and maintain its nutritional value for up to 30 years. Its long shelf life, wide variety, various uses, and original taste make it a perfect long-lasting food for anyone to store at home.
You can freeze-dry most foods (see a complete list of what can and cannot be freeze-dried) including such things as full meals (including leftovers) which makes the varieties of freeze-dried foods that last a long time almost limitless.
Types of freeze-dried foods that last a long time include:    
Full Meals

Beef Stroganoff
Casseroles (various kinds)
Chili
Enchiladas
Ham Fried Rice
Lasagna
Mac and Cheese
Pasta
Pizza
Soups (various kinds)
Stew

Fruits (home garden or store-bought)

Apple Slices
Bananas
Blueberries
Coconut
Kiwis
Mango
Mixed Fruit
Peaches
Raspberries
Strawberries

Vegetables (home garden or store-bought)

Beans
Carrots
Celery
Corn
Green Beans
Onions
Potatoes
Squash
Tomatoes
Meats (beef, pork, poultry, fish: raw and cooked)

Chicken
Beef (various types)
Pork
Sausage
Turkey
Venison

Dairy (including milk, cheese, and buttermilk)

Milk
Cheese
Sour Cream
Ice Cream

Eggs (raw and cooked eggs)
Deserts, Snacks, and Candy (including Skittles)

Cookies
Cheesecake
Ice Cream Sandwiches
Jelly
Marshmallows
Pie
Pudding Skittles

Drinks (orange juice)

Coffee
Orange Juice
Smoothies

Herbs and Spices
Individual food items and full meals that have been freeze-dried can be purchased or freeze-dried at home using a home freeze-dryer (see if buying a freeze-dryer is right for you).
---

Dehydrated Foods
Dehydrated foods are a great survival food to have on hand. It lasts a long time and is easy to do yourself at home. Dehydrated foods are lightweight and easy to store. Most dehydrated foods can last over 10-15 years when stored correctly. Buying your own dehydrator is very affordable and a great option for most people to preserve their own food. See how to choose the best dehydrator for you. 
Types of dehydrated foods that can be stored long-term include:
Fruits (home garden or store-bought)

Bananas
Apples
Strawberries
Mangos
Peaches

Raspberries
Blueberries
Oranges
See more

Vegetables (home garden or store-bought)

Tomatoes
Zucchini
Peas
Onions
Carrots
Potatoes
Celery
Green Beans 
Corn
See more

Meats

Jerky
Ground beef
Chicken 
Deli Meats
Fish
Jams/Applesauce (Fruit leather)
Yogurt
Sauces

Pizza Sauce
Spaghetti Sauce
Tomato Sauce 
BBQ Sauce 
Ketchup 
Mustard
Alfredo Sauce

Herbs
Syrup & Honey

Honey
Maple syrup
Corn syrup
Agave Syrup
Molasses 

Pet Food (Cat and Dog food)
For more ideas see our comprehensive list of the best foods to dehydrate.
---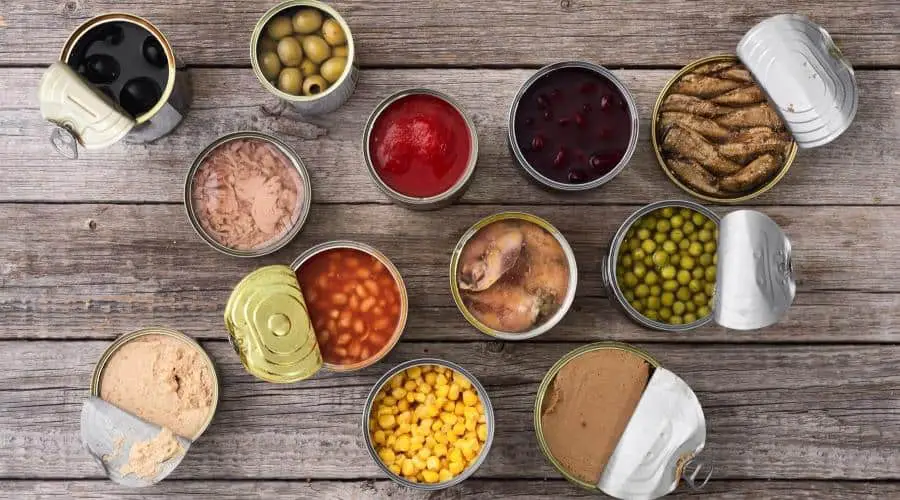 Canned Foods
Canned foods are great for storing and last for a long time in your pantry or cold storage. The great thing about canned food is that it is easy to find in any grocery store and generally cheap to buy especially during a case lot sale.
Vegetables (home garden or store-bought)
Fruits (home garden or store-bought)
Soups and Stews
Stocks and Broths
Beef
Poultry
Fish: canned tuna, shrimp, sardines, and salmon
Wild Game Meat
Chili
Baked Beans
For our comprehensive list of foods that can and cannot be pressure canned.
---
Frozen Foods
Foods that need to be frozen are technically perishable, however, the below foods if kept in the freezer can be stored for up to 2 years which is why I have included them on the list of foods with the longest shelf life.
Freezing certain foods has helped us extend the shelf life of those foods for a long time compared to the same nonfrozen food. For example, we like to save money by buying beef and chicken in bulk and storing it all in our deep freeze in our garage.
Keep in mind, foods that are stored in the freezer for a long time have the chance of being freezer burnt if not stored correctly. To avoid this food should be in airtight bags or containers whenever possible. We like to use a vacuum sealer to ensure we get all the air out giving us the longest amount of freezer shelf life possible. See if a vacuum sealer is worth it for you.
Here is a list of foods that last a long time kept in the freezer:
Chicken 
Beef
Pork
Sausage
Venison
Freezer meals 
Vegetables (blanched then stored)
Fruits (single or mixed)
Apple sauce
Jams 
Cooked pasta or rice
Flour
Grated cheese
Butter
Bread
---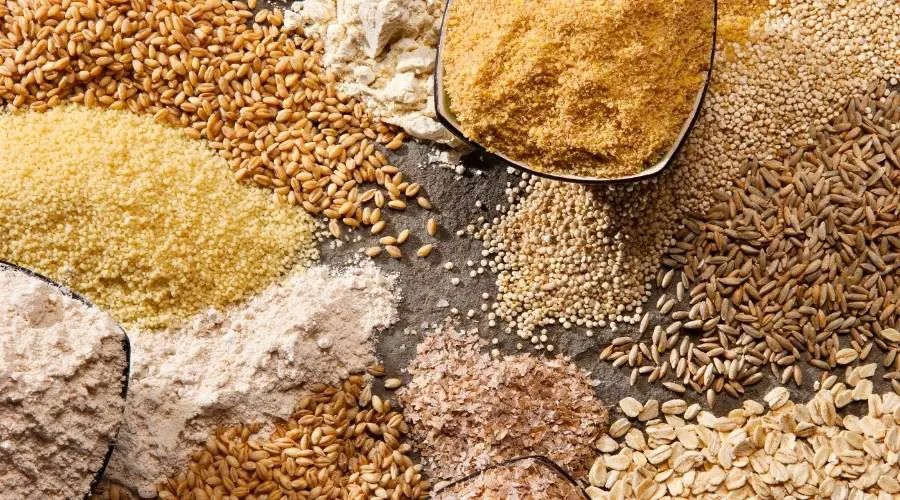 Grains
Grains such as wheat berries, rice, flour, pasta, and oats are an important part of any long-term food storage. The below list of grains will provide you with a lot of ideas so you can add the types of grains to your food storage that work best for you.
Wheat berries store for longer than flour and produce fresher, better-tasting whole wheat flour after being ground. You'll want to find the best grain mill/flour grinder for you so that you can make your own flour whenever you need fresh flour.
Hard Red Winter Wheat
Hard Red Spring Wheat
Soft Red Winter Wheat
Durum Wheat
Hard White Wheat
Soft White Wheat
All-Purpose Flour (hard and soft red wheat)
Whole Wheat Flour (stone ground wheat berries)
Bread Flour (hard red spring wheat)
Cake Flour (soft white wheat endosperm)
Pastry Flour (hard white wheat endosperm)
White Rice
Jasmine Rice
Basmati Rice
Wild Rice
Red Cargo Rice
Parboiled Rice
Black Rice
Rosematta Rice
Brown Rice
Arborio Rice
Camargue Rice
Sticky Rice
Sushi Rice
Valencia Rice
Spaghetti Pasta
Fettuccine Pasta
Penne Pasta
Macaroni Pasta
Rolled Oats
Quick Oats
Steel Cut Oats
Oatmeal
Cereal
Flour Ginder/Grain Mill
WonderMill Grain/Flour Mill
Easy for grinding both hard and soft wheat berries into flour for baking. It will also grind corn, rice, legumes, beans, and other small grains like Quinoa and Amaranth.
Click here to see the price on Amazon »
---
Beans and Legumes
Canned or dry beans are non-perishable food that is good for storing long-term without refrigeration. Most dry beans can last for up to 25 years in Mylar bags or #10 cans with oxygen absorbers. Canned beans can last for a few years. 
The below list can be stored for a long time either dry or canned.
Pinto Beans
Black Beans
Kidney Beans 
Adzuki Beans
Split Peas
Black-Eyed Beans
Mung Beans
Lima Beans
Fava Beans
Great Northern Beans
Chickpeas (Garbanzo Beans)
Cranberry or Roman Beans
Lentils
The most common canned beans are black beans, cannellini beans, chickpeas (otherwise known as garbanzo beans), Great Northern beans (like cannellini, but smaller), kidney beans, and pinto beans.
---

Dried Milk and Dairy
Milk and other dairy products are a big part of most people's daily diet and are used in so many meals and recipes. Dairy products are perishable and require refrigeration to keep from going bad, however, there are some great alternative dairy products that can be stored for the long term in your pantry.
Here is a list of dairy products that will last for a long time in your pantry or dry storage.
Powder Milk
Dried Whole Egg Powder
Dried Scrambled Egg Mix
Butter Powder
Buttermilk Powder
Sour Cream Powder
Dehydrated or Freeze Dried Yogurt
Freeze Dried Cheese
Here are some good dairy products on Amazon that last a long time in your long-term food storage.
---
Nuts and Seeds
Make sure your long-term food storage should have a good balance of protein, carbs, and fat because they are essential macronutrients. Nuts and seeds are a good source of protein, fat, vitamins, and minerals.
Like all foods, there are a few things to remember when storing nuts and seeds. Store dry roasted and salted nuts because they will store longer than raw nuts. See a list of nuts to include in your long-term storage.
Almonds
Brazil nuts
Cashew nuts
Hazelnuts
Macadamias
Pecans
Pine nuts
Pistachios
Walnuts
Peanuts
Pumpkin seeds
Flax seeds
Sesame seeds
Poppy seeds
Sunflower seeds
Psyllium seeds 
Chia seeds
---
Sugars
Sugars are another essential food to store for a long time. It is most often stored long-term in 5-gallon buckets with gamma lids for an airtight seal, and in mylar bags for an even longer-lasting even indefinite storage life. We don't use oxygen absorbers with sugar for storage because it can cause your sugar to become clumpy and hard.
Sugars that are good to include in your long-term storage include:
White Sugar
Brown Sugar
Powdered Sugar
Honey
Syrup
Jams
Corn Syrup
Molasses
Powdered Juice Mix
Jello Mix
---
Cooking Essentials
To enhance your emergency food supply you'll also need to include cooking/baking essentials in your long-term storage. Your cooking and meals will be far less enjoyable without the following cooking essentials. 
Salt
Pepper
Baking Powder
Baking Soda
Yeast
Vinegar
Apple Cider Vinegar (very versatile)
Garlic
Favorite Seasonings
Cooking Oil and Shortening
Once you've built up a decent supply of shelf-stable foods it is important to know how to best store bulk foods long-term and have a good organization plan for your food storage. This will help you avoid waste and use your food storage regularly and effortlessly.