We recently went through our emergency preparedness items and realized we are well under the recommended amount of water we should have stored for our family. Clean and safe water is critical to have in the event of an emergency for drinking, cooking, and washing. We know how much water we need for our family but this leads us to the question, what are the best ways to store water? And what are the best containers to store water in long term?
There are many different ways to store water for an emergency. Below is a list of the top emergency water storage ideas and containers used most commonly by real people.  
The CDC suggests at least 1 gallon of water per person per day. However, storing more if possible is better. Once you've evaluated your situation and know how much water you need to store, you can more easily decide which ideas for storing water will work best for you. 
Consider breaking it down, to have enough water for 4 people for 14 days you would need about 56 gallons of water. So a 55-gallon drum and a case or 2 of bottled water would be an adequate amount for 2 weeks. Use our water storage calculator to help you plan for your family.
Also, it is critical that you know how to safely and easily purify water at home in case your stored water or other water sources become contaminated. And for those who experience colder seasons like us see how to keep water storage from freezing outside.
Choosing a Water Container
According to the CDC, "it is best to use food-grade water storage containers". In this article, we have only included water storage container ideas that are food-grade and are regularly used by common people.
Things to consider when looking for a water container or tank
Size and space efficient
Portability
Durability
Food-grade material
User-friendly design and access taps
What will you use it for? Emergencies at home or to take camping/travel
When deciding what type of water storage container to use always remember that you don't have to pick just one type of container or one way of storing water. You can use both stackable containers and water bottles if that is what works best for you and your storage space. Or 55-gallon drums and a water bladder and reused soda bottles. In fact, you should have a variety of container sizes and types. 
It is easier to move the smaller containers when they are needed like if you need to get out of town it is easier to take them with you. A 55-gallon drum is going to stay right where you fill it. There is a potential that one of your water storage options could become contaminated or leak without realizing it and you'll need to use your other water storage option. 
Comparing Water Storage Container Options
Container Type
Capacity
Advantages
Disadvantages
Collapsible Containers
1-5 gallons
Saves Space,
Portable,
Easy to move (lighter weight),
Easy to access (pour or access tap),
Cheap
Break down faster the more they are collapsed,
Don't stack well

Underground Tanks
100-1000 gallons
Will not freeze,
Out of the way,
Great for operational security,
Lots of water in a small space
Expensive,
Requires excavation equipment to install
Above Ground
Tanks
100-1000 gallons
Some can be stored in a garage,
Lots of water in a small space
Expensive,
May freeze outdoors
55 Gallon Barrel or Drum
55 gallons
Used barrels available,
Lots of water in a small space
Heavy (450+ pounds),
May freeze outdoors
30 Gallon Barrel or Drum
30 gallons
Lots of water in a small space
Heavy (250 pounds),
May freeze outdoors
15 Gallon Barrel
15 gallons
Possible to transport
Still heavy (100+ Pounds)
5 Gallon Container (stackable)
5 gallons
Available in a stackable style,
Easier to move (40 pounds),
Some have a spigot which
makes it convenient to use
May take more floor space
than larger containers
WaterBricks (see on Amazon)
1.6-3.5 gallons
Durable, portable, stackable,
Freezes and thaws well
Expensive
Reclaimed Milk, Juice, or
Soda Bottles
½ – 1 gallon
Free, convenient, portable
May harbor bacteria if not
cleaned thoroughly
Commercial Water
Bottles
16 oz – 1 liter
Convenient, disposable, cases stack well
Expensive compared to larger containers,
Damaged by heat
Water Bladder
1-500 gallons
Convenient storage when not being used,
Emergency bathtub storage
Expensive,
Inconvenient floor space for typical storage
Canning Jars
Pint or quart
Non-permeable, does not leach into the water
May break
Stainless Steel Water Can
5 gallons
Durable, portable, and can store about anywhere
Expensive
The above table compares all the different water storage container options and provides advantages and disadvantages for each option.
*Remember, all water stored long term should be treated appropriately to ensure safe drinking water when needed. You'll need 8 drops of bleach per gallon or 2 Tbsp. + 1 tsp. for a 55-gallon drum. Also, consider keeping several different types of water filters at home for emergencies.
1. Collapsible Water Storage Container
Collapsible Water Storage is a great container idea for many people that are looking to store water for emergencies and conserve space. They are light, compact, and often reusable. They are easily stored and especially handy if you are on the go as they are smaller and easier to carry if needed. When collapsed these containers take up a very small amount of storage space. While full they are strong and easier to carry than a bigger drum or tank. 
Collapsible storage containers usually range anywhere from 1-5 gallons in size and often have handles making them easy to move around when needed. They are made from sturdy food-safe plastic. Because they are made of sturdy plastic they are often reusable as long as there are no cracks or holes that can happen where the plastic bends when collapsed. 
Collapsible containers are often used for camping because of how small of space they take up when collapsed and how portable they are.
Right For You if –
You live in an apartment
Have limited storage space
Use as a bug-out or travel water container
Use on camping trips
---
---
We like to use collapsible water storage containers for camping and travel. We keep them in our storage room off the flour on shelves and in closets. We use collapsible containers in addition to several other water container types.
2. Plastic Water Barrel or Drum
Plastic Water Barrels, 55-gallon drums are one of the most commonly seen container options for water storage. But there are many different sizes and kinds so you can choose which one works best for your storage space and family. These barrels often come with kits that include spigots or pumps that make getting the water out easy without contaminating it. 
It is recommended to store water barrels up off the ground on something such as a wooden pallet, remnant of carpet, or cardboard. This helps avoid possible chemical reactions between the plastic of the barrel and the cement that could possibly contaminate your water. It also helps eliminate any moisture getting stuck underneath creating a place for mold to grow.
Plastic water barrels are cheaper than stainless steel barrels. These barrels are often made of food-grade plastic. Making them great options for water storage. 
It is important to remember that these barrels are very heavy. A 55-gallon barrel of water can weigh upwards of 160 pounds. Once they are full they will stay where they are. 
Right for You if – 
You have enough storage space
An easy way to access the water without contaminating it
You have space to dump, clean, and refill drum or barrel every other year or so
---
We really like this 55-gallon water drum because of everything that is included with it like the hand pump which makes accessing the water easy.
---
3. Water Tank
Water tanks are not for everyone,  but are perfect if you are looking for something durable that can store a large amount of water. Water tanks are much bigger than 55-gallon drums so you will need a large space to store a water tank. Some water tanks come with a metal cage around them making them more durable but also more expensive. Some smaller tanks you can easily strap to a four-wheeler making them easy to transport. 
Water tanks hold more than 200 gallons of water making them great for bigger families or if you have animals you need to consider the amount of water you need to store. 
All tanks should be stored in a cool dry place with treated water off the ground if possible. 
Right for You if – 
You have a large storage space
You have a large family or animals you'll need water for
You have space to dump, clean, and refill the tank every other year or so
---
---
4. Stackable Containers
Stackable containers are usually anywhere from 3-7 gallons in size and usually have some sort of handle making them easy to move around when needed. These work especially well when your storage space is limited. Stackable containers waste very little storage space. 
We like stackable containers because you can stack them anywhere. They don't have to be stacked all together. You can put some in the storage room, some in the closet, and some in the garage if you need to split them up because of the available space in your storage room. Even having them in different locations because of their design, you can store a lot of water while using the least amount of space. 
Containers should also be stored up off the floor on either a wooden pallet, remnant of carpet, or cardboard to prevent a chemical reaction between that plastic and the cement.
Right For You if –
You live in an apartment
Have limited storage space
Use as a bug-out or travel water container
Use on camping trips
---
---
5. Stainless Steel/Carbon Steel Containers
Stainless steel and carbon steel are nontoxic. While stainless steel is more expensive than carbon steel. Neither of these steels will leach chemicals into the water so they are great options for water storage. 
Stainless steel and carbon steel are both extremely durable. This makes the large drums very desirable water storage containers for the fact that they will be extremely durable in the event of an emergency such as an earthquake that could cause things to fall on top of your water storage causing enough damage to make the container leak or explode causing you to lose your water storage. 
Stainless steel and carbon steel can rust. Especially when kept in a humid/wet environment. If you would like to ensure rust does not contaminate your water supply when using stainless steel or carbon steel for water storage you can use a liner or paint the outside of the container with rust-resistant paint. You'll also want to make sure you store the container in a cool, dry environment. 
Right for You if – 
You have enough storage space
An easy way to access the water without contaminating it
You have space to dump, clean, and refill the container every other year or so
---
---
6. Water Bladder
A water bladder is a great option for water storage. A water bladder takes up minimal storage space when they are empty, but can easily be filled in a hurry. There are many different options for water bladders. Some can be filled quickly and stored in the bathtub and stored there if an emergency such as a hurricane is on its way, some are heavy duty and meant for long-term storage, and some of the in-between, durable but not heavy duty but not just meant to stay in the tub.
Water bladders are awkward and hard to carry to move on their own. If you need to fill your water bladder then move it, they can be filled in a wheelbarrow and moved around more easily. I would recommend placing the bladder where you want to store it and filling it with a hose if at all possible. 
These are not the most common water storage options but they are still a good emergency option. Water bladders can have a tendency to leak or pop if they are handled too aggressively so that should be taken into consideration when thinking of where you want to store them and if you need to move them.
Right for You if – 
You have limited storage space
If hurricanes are common in your area
If you plan on not leaving your home during an emergency
---
---
7. Reusable Food Containers (Milk jugs, soda or juice bottles, etc.)
Food containers such as milk jugs, 2-liter soda bottles, bottles of juice, or sports drink bottles that have been properly cleaned can also be used as water storage. These types of containers are not ideal for long-term storage. They were designed to be one-time use and will break down faster than other containers and could leak. Even with proper cleaning, the water will most likely take on the taste of whatever was in the container first. 
If you do choose to use these containers, you will want to thoroughly clean the used containers. Any remaining food or drink contents in the container can cause the water to become contaminated causing the water to go bad more quickly.
It may also be a good idea to use this water solely for cleaning dishes or bathing purposes. Or have a water filter on hand just to be safe.
Water should never be stored in bleach bottles or other bottles or containers that originally contained a cleaner or other toxic chemicals.
Right For You if –
You live in an apartment
Have limited storage space
Looking for a cheap water storage container option
Use as a bug-out or travel water container
Use on camping trips
8. Water Jugs
If you camp often you probably have a water jug that is between 5 and 7 gallons. These jugs are made of food-grade plastic making them perfect for water storage. These jugs usually have handles and have a rectangular, flat shape making them easy to carry and easy to store in small places like a camper. 
The size and shape of water jugs make them easy to fill and great to store water in your storage room or easy to slide under the bed for extra storage space. If you need water that can be transported or taken with you easily, water jugs are a great option. 
Right For You if –
You live in an apartment
Have limited storage space
Use as a bug-out or travel water container
Use on camping trips
---
Our Top Pick
6 Gallon Igloo Water Jug
Easily portable with a comfortable handle
Flexible spout that stores inside the jug
Made of heavy-duty plastic for durability
---
9. Glass Jars
Glass Jars are another option for water storage. While not the most cost-effective, it can be a double-purpose option. If you have glass jars on hand for canning, they take up the same amount of space whether they are empty or full. When you empty the food out of a glass jar, clean it thoroughly, fill it with water, place a new lid on top, and put it in a water bath for about 20 minutes and your water will be sterile and free of pathogens. 
Once you need the glass jars for canning it is easy to empty the water and use the jars just as you would have before. 
Be cautious, glass can easily be broken and is not a great primary option for storing large amounts of water but can be a good option to diversify your water storage especially if you have empty glass jars in your storage that are not being used.
Right For You if –
You live in an apartment
Have limited storage space
Have access to extra glass jars that aren't being used
Are on a tight budget
10. Plastic Water Bottles
Plastic water bottles are great for daily use as well as long-term storage option. While water bottles technically have no expiration date, over time they can leach BPA and other chemicals into the water giving them a best-by date. Even when stored away from sunlight and heat this leaching can happen. 
Water bottles are a great short-term storage option that can be used as long-term as long as they are constantly being used and rotated first in first out. 
Right For You if –
You live in an apartment
Have limited storage space
Plan to use and rotate small amounts of water regularly
Have other water storage options
11. Water Filters and Filtration System
Having a Water filtration system on hand means as long as you have access to water you have access to drinkable water. We like to keep a few water filter straws, a portable pump filter, and a Big Berkey Drip System around, usually in our car, bug-out bag kits, and an extra one to have at home just in case our water supply goes bad or becomes contaminated. See our top emergency water filter picks and make sure to keep a few different filter types on hand at home.
Right For You if –
You live in an apartment
Have limited storage space
Have large water storage containers that could become contaminated
Use as a bug-out or travel water container
Use on camping trips
You have access to an outside water source
12. Backyard Pool
If you have a backyard pool, you have access to a massive amount of water. While I wouldn't depend on this because it is exposed to all of the elements, it is a great option to have as a backup water source if needed. 
If you are using this water after an extended time or after a storm with flooding or without the filter running it's a good idea to filter the water through a water filtration system.
Remember that if you experience a power outage your pool filter will no longer work so within a few days the pool water will begin growing algae and bacteria. Chlorine will help kill algae and bacteria. Additionally, small amounts of chlorine won't hurt anyone that drinks it. However, if you plan on using pool water as an emergency use for water storage then we highly recommend having several reliable pump water filters.
Right For You if –
Have access to a pool
Have chlorine and/or pool filter to keep it algae and bacteria free
Have access to a pump water filter
13. Rainwater Collecting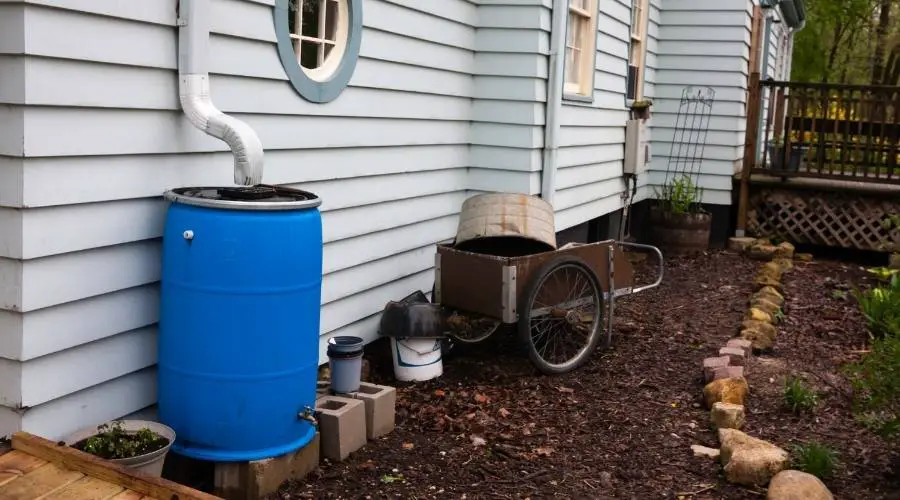 Collecting rainwater can be a great option for water storage. Some states do have restrictions so be sure to check this website to make sure you are collecting water legally. 
Rainwater while free and can come in abundance depending on the time of year has been exposed to many different elements. Rainwater will need to be boiled and filtered before consuming or using for cooking. 
Conclusion
Remember that it is a good idea to use more than one water storage idea and different types of containers. We find it effective to store and rotate water bottles, large 55-gallon drums, collapsable containers, 5-gallon jugs, stackable tanks, and other cheaper reusable bottles. Evaluate your situation and make the most of the available storage space that you have access to.
Also, don't forget to treat your water regularly (at least every year), store containers in appropriate places, and switch out your water as needed.