It is very annoying to be in the middle of cooking dinner or baking cookies to find you are missing a key ingredient. Before making an unnecessary journey to the grocery store, consider that your pantry or kitchen may have reasonable options such as an ingredient substitution.
A recipe substitution can sometimes alter the flavor, color, texture, or volume of the food, but will still result in an acceptable finished food product.
Great for Substituting Food Storage or Pantry Ingredient Items into your Recipes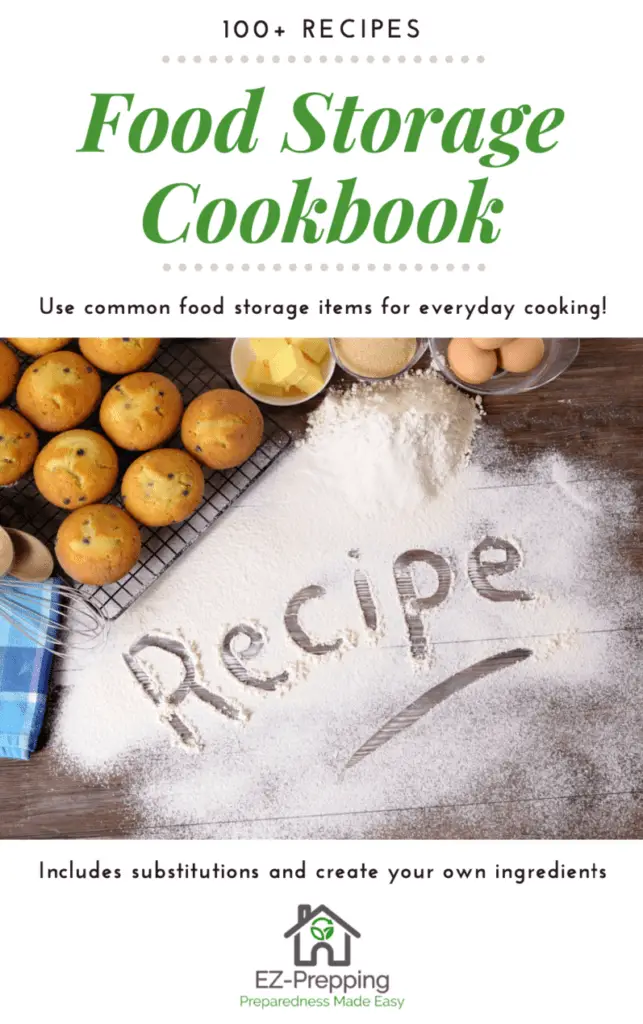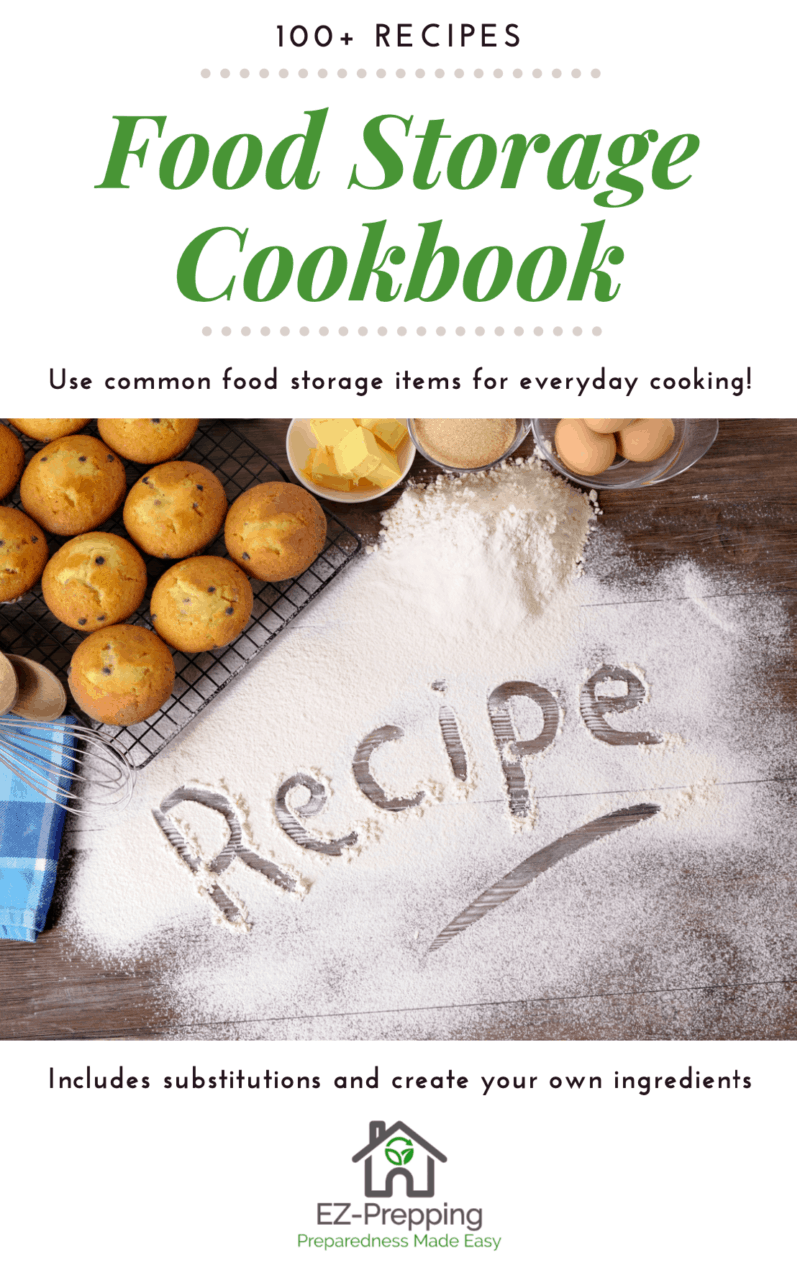 How to Use Your Food Storage
See exactly what to buy and how to use your food storage in recipes that everyone in your family will enjoy so that nothing goes to waste. Plus long-term food storage substitutions and how to make your own ingredients!
Basic Ingredient Substitutions List/Chart
Below is a chart of common substitutions for 95+ ingredients. Use the search feature to find the ingredient that you are looking for.
Ingredient
Amount
Substitution
Allspice
1 teaspoon
1/2 teaspoon cinnamon, 1/4 teaspoon ginger plus 1/4 teaspoon cloves
Apple pie spice
1 tablespoon
1/2 tsp cinnamon plus 1/4 tsp nutmeg plus 1/8 tsp cardamom.
Arrowroot starch
1 teaspoon
1 tablespoon flour
OR
1 teaspoon cornstarch
Baking mix
1 cup
1 cup pancake mix
Baking powder
1 teaspoon
1/4 teaspoon baking soda plus 5/8 teaspoon cream of tartar
OR
1/4 teaspoon soda plus 1/2 cup fully soured milk or buttermilk
OR
1/4 teaspoon baking soda plus 1/2 tablespoon vinegar
OR
lemon juice used with milk to make 1/2 cup;
Baking soda
1 teaspoon
4 teaspoons baking powder
OR
1 teaspoon potassium bicarbonate and 1/3 teaspoon salt.
NOTE: If the recipe calls for an acidic liquid such as sour cream, yogurt, buttermilk, vinegar, molasses, or citrus juice, you should replace it with the same amount of whole milk
Beer
1 cup
1 cup nonalcoholic beer
OR 
1 cup chicken broth
Brandy
1/4 cup
1 teaspoon imitation brandy extract plus enough water to make 1/4 cup
Bread crumbs
1 cup
1 slice bread
OR
1 cup cracker crumbs
OR
1 cup matzo meal
OR
1 cup ground oats
Broth: beef or chicken
1 cup
1 bouillon cube plus 1 cup boiling water
OR 
1 tablespoon soy sauce plus enough water to make 1 cup 
OR 
1 cup vegetable broth
Brown sugar
1 cup, packed
1 cup white sugar plus 1/4 cup molasses and decrease the liquid in the recipe by 1/4 cup
OR 
1 cup white sugar 
OR 
1 1/4 cups confectioners' sugar
Butter (salted)
1 cup
1 cup margarine
OR
1 cup shortening plus 1/2 teaspoon salt
OR
7/8 cup vegetable oil plus 1/2 teaspoon salt
OR
7/8 cup lard plus 1/2 teaspoon salt
Butter (unsalted)
1 cup
1 cup shortening
OR
7/8 cup vegetable oil
OR
7/8 cup lard
Buttermilk
1 cup
1 cup plain yogurt
OR
1 cup milk plus 1 tablespoon vinegar. Let sit for 5 minutes.
OR
1 tablespoon lemon juice plus enough milk to make 1 cup. Let stand for 5 minutes.
Catsup
1 cup
1 cup tomato sauce plus 1/2 cup sugar plus 2 Tbsp vinegar (for use in cooking).
Cheddar cheese
1 cup shredded
1 cup shredded Colby cheddar
OR 
1 cup shredded Monterey Jack cheese
Chervil
1 tablespoon chopped fresh
1 tablespoon chopped fresh parsley
Chicken base
1 tablespoon
1 cup canned or homemade chicken broth or stock. Reduce liquid in the recipe by 1 cup
Chili Sauce
1 cup
1 cup tomato sauce plus 1/4 cup brown sugar plus 2 Tbsp vinegar plus 1/4 tsp cinnamon plus a dash of ground cloves and allspice
Chocolate (semisweet)
1 ounce
1 (1-ounce) square of unsweetened chocolate plus 4 teaspoons sugar
OR 
1-ounce semisweet chocolate chips plus 1 teaspoon shortening
Chocolate (unsweetened)
1 ounce
3 tablespoons unsweetened cocoa plus 1 tablespoon shortening or vegetable oil
Cocoa
1/4 cup
1 (1-ounce) square unsweetened chocolate
Condensed cream of mushroom soup
1 (10.75-ounce) can
1 (10.75-ounce) can condensed cream of celery plus cream of chicken or golden mushroom soup
Cornstarch (for thickening)
1 tablespoon
2 tablespoons all-purpose flour
OR
2 tablespoons granular tapioca
OR
1 tablespoon arrowroot
Corn syrup
1 cup
1 1/4 cup white sugar plus 1/3 cup water
OR 
1 cup honey 
OR 
1 cup light treacle syrup
Cottage cheese
1 cup
1 cup farmer's cheese
OR 
1 cup ricotta cheese
Cracker crumbs
1 cup
1 cup bread crumbs 
OR 
1 cup matzo meal
OR 
1 cup ground oats
Cream (half and half)
1 cup
7/8 cup milk plus 1 tablespoon butter
Cream (heavy)
1 cup
1 cup evaporated milk
OR 
3/4 cup milk plus 1/3 cup butter
Cream (light)
1 cup
1 cup evaporated milk
OR
3/4 cup milk plus 3 tablespoons butter
Cream (whipped)
1 cup
1 cup frozen whipped topping, thawed
Cream cheese
1 cup
1 cup pureed cottage cheese
OR 
1 cup plain yogurt, strained overnight in a cheesecloth
Cream of tartar
1 teaspoon
2 teaspoons lemon juice or vinegar
Crème fraiche
1 cup
Combine 1 cup of heavy cream and 1 tablespoon of plain yogurt. Let stand for 6 hours at room temperature
Egg
1 whole (3 tablespoons or 1.7 oz)
2 1/2 tablespoons of powdered egg substitute plus 2 1/2 tablespoons water
OR 
1/4 cup liquid egg substitute 
OR 
1/4 cup silken tofu pureed
OR
3 tablespoons mayonnaise 
OR 
half a banana mashed with 1/2 teaspoon baking powder 
OR 
1 tablespoon powdered flax seed soaked in 3 tablespoons water
Evaporated milk
1 cup
1 cup light cream
Farmer's cheese
8 ounces
8 ounces dry cottage cheese
OR 
8 ounces creamed cottage cheese, drained
Fats for baking
1 cup
1 cup applesauce
OR 
1 cup fruit puree
Flour: All-purpose
1 cup sifted
1 cup plus 2 tablespoons cake flour
OR
1 cup unsifted all-purpose flour minus 2 tablespoons
*Equivalent 1 pound = 4 cups sifted or 3 1/3 cups unsifted
Flour: Bread
1 cup
1 cup all-purpose flour plus 1 teaspoon wheat gluten (available at health food stores & some supermarkets)
Flour: Cake
1 cup
1 cup all-purpose flour minus 2 tablespoons
Flour: Self-Rising
1 cup
7/8 cup all-purpose flour plus 1 1/2 teaspoons baking powder and 1/2 teaspoon of salt
Garlic
1 clove
1/8 teaspoon garlic powder
OR 
1/2 teaspoon granulated garlic 
OR 
1/2 teaspoon garlic salt–reduce salt in the recipe
Gelatin
1 tablespoon, granulated
2 teaspoons agar agar
Ginger–dry
1 teaspoon
2 teaspoons chopped fresh ginger
Ginger–fresh
1 teaspoon, minced
1/2 teaspoon ground dried ginger
Green onion
1/2 cup , chopped
1/2 cup chopped onion
OR 
1/2 cup chopped leek 
OR 
1/2 cup chopped shallots
Hazelnuts
1 cup whole
1 cup macadamia nuts
OR 
1 cup almonds
Herbs–fresh
1 tablespoon chopped fresh
1 teaspoon (chopped or whole leaf) dried herbs
Herring
8 ounces
8 ounces of sardines
Honey
1 cup
1/4 cup white sugar plus 1/3 cup water
OR 
1 cup corn syrup 
OR 
1 cup light treacle syrup
Hot pepper sauce
1 teaspoon
3/4 teaspoon cayenne pepper plus 1 teaspoon vinegar
Ketchup
1 cup
1 cup tomato sauce plus 1 teaspoon vinegar plus 1 tablespoon sugar
Lard
1 cup
1 cup shortening
OR 
7/8 cup vegetable oil 
OR 
1 cup butter
Lemon grass
2 fresh stalks
1 tablespoon lemon zest
Lemon juice
1 teaspoon
1/2 teaspoon vinegar
OR 
1 teaspoon white wine 
OR 
1 teaspoon lime juice
Lemon zest
1 teaspoon
1/2 teaspoon lemon extract
OR 
2 tablespoons lemon juice
Lime juice
1 teaspoon
1 teaspoon vinegar
OR 
1 teaspoon white wine 
OR 
1 teaspoon lemon juice
Lime zest
1 teaspoon
1 teaspoon lemon zest
Macadamia nuts
1 cup
1 cup almonds
OR 
1 cup hazelnuts
Mace
1 teaspoon
1 teaspoon nutmeg
Margarine
1 cup
1 cup shortening plus 1/2 teaspoon salt
OR 
1 cup butter 
OR 
7/8 cup vegetable oil plus 1/2 teaspoon salt 
OR 
7/8 cup lard plus 1/2 teaspoon salt
Mayonnaise
1 cup
1 cup sour cream
OR 
1 cup plain yogurt
Milk: whole
1 cup
1 cup soy milk
OR 
1 cup rice milk 
OR 
1 cup water or juice 
OR 
1/4 cup dry milk powder plus 1 cup water 
OR 
2/3 cup evaporated milk plus 1/3 cup water
Mint: fresh
1/4 cup chopped
1 tablespoon dried mint leaves
Molasses
1 cup
Mix 3/4 cup brown sugar and 1 teaspoon cream of tartar
Mustard: prepared
1 tablespoon
Mix together 1 tablespoon dried mustard, 1 teaspoon water, 1 teaspoon vinegar and 1 teaspoon sugar
Onion
1 cup, chopped
1 cup chopped green onion
OR 
1 cup chopped shallot 
OR 
1 cup chopped leek 
OR 
1/4 cup dried minced onion 
OR 
1/4 cup onion powder
Orange juice
1 tablespoon
1 tablespoon other citrus juice
Orange zest
1 tablespoon
1/2 teaspoon orange extract
OR 
1 teaspoon lemon juice
Parmesan cheese
1/2 cup, grated
1/2 cup grated Asiago cheese
OR 
1/2 cup grated Romano cheese
Parsley
1 tablespoon chopped fresh
1 tablespoon chopped fresh chervil
OR 
1 teaspoon dried parsley
Pepperoni
1 ounce
1-ounce salami
Raisin
1 cup
1 cup dried currants
OR 
1 cup dried cranberries 
OR 
1 cup chopped pitted prunes
Rice: white
1 cup, cooked
1 cup cooked barley
OR 
1 cup cooked bulgur 
OR 
1 cup cooked brown or wild rice
Ricotta
1 cup
1 cup dry cottage cheese
OR 
1 cup silken tofu
Rum
1 tablespoon
1/2 teaspoon rum extract, plus enough water to make 1 tablespoon
Saffron
1/4 teaspoon
1/4 teaspoon turmeric
Salami
1 ounce
1-ounce pepperoni
Semisweet chocolate chips
1 cup
1 cup chocolate candies
OR 
1 cup peanut butter or other flavored chips 
OR 
1 cup chopped nuts 
OR 
1 cup chopped dried fruit
Shallots, chopped
1/2 cup
1/2 cup chopped onion,
OR 
1/2 cup chopped leek 
OR 
1/2 cup chopped green onion
Shortening
1 cup
1 cup butter
OR 
1 cup margarine minus 1/2 teaspoon salt from the recipe
Sour cream
1 cup
1 cup plain yogurt
OR 
1 tablespoon lemon juice or vinegar plus enough cream to make 1 cup 
OR 
3/4 cup buttermilk mixed with 1/3 cup butter
Sour milk
1 cup
1 tablespoon vinegar or lemon juice mixed with enough milk to make 1 cup: Let stand 5 minutes to thicken
Soy sauce
1/2 cup
1/4 cup Worcestershire sauce mixed with 1 tablespoon water
Stock: beef or chicken
1 cup
1 cube beef or chicken bouillon dissolved in 1 cup water
Sweetened condensed milk
1 (14-ounce) can
3/4 cup white sugar mixed with 1/2 cup water and 1 1/8 cups dry powdered milk: Bring to a boil and cook, stirring frequently, until thickened, about 20 minutes
Vegetable oil: for baking
1 cup
1 cup applesauce
OR 
1 cup fruit puree
Vegetable oil: for frying
1 cup
1 cup lard
OR 
1 cup vegetable shortening
Vinegar
1 teaspoon
1 teaspoon lemon or lime juice
OR 
2 teaspoons white wine
Whipped Cream
2 cups
1 cup chilled evaporated milk plus 1/2 tsp lemon juice (whipped until stiff)
White sugar
1 cup
1 cup brown sugar
OR 
1 1/4 cups confectioners' sugar 
OR 
3/4 cup honey 
OR 
3/4 cup corn syrup
Wine
1 cup
1 cup chicken or beef broth
OR 
1 cup fruit juice mixed with 2 teaspoons vinegar 
OR 
1 cup water
Yeast: active dry
1 (.25-ounce) package
1 cake compressed yeast
OR 
2 1/2 teaspoons active dry yeast 
OR 
2 1/2 teaspoons rapid-rise yeast
Yogurt
1 cup
1 cup sour cream
OR 
1 cup buttermilk 
OR 
1 cup sour milk
Watch 9 Ingredient Substitutions For Baking Emergencies