A few months ago I was rummaging through my food storage in the pantry when, like many times before, I found myself getting frustrated because of low quality food containers that were not sealing properly, not stacking well and not fitting well in my pantry. So I started doing some research and found some food storage containers that are best for the pantry.
The BEST pantry food storage containers that are airtight
Best for Pantry
Best for Cereal in the Pantry
Best Glass Container
My #1 pick – Food Storage Container for the Pantry
After hours of research and then purchasing several food storage containers we determined that the best food storage container for anyone's pantry is the Rubbermaid Brilliance Pantry Organization food storage set. Even though we really liked the OXO containers the price was what ultimately prevented us from buying more. We felt like the value for the price that we received from the Rubbermaid was worth buying more over the OXO! But if you want a top of the line containers than the OXO Good Grips 10-Piece Airtight Food Storage Container Set may be your go-to long term food storage containers.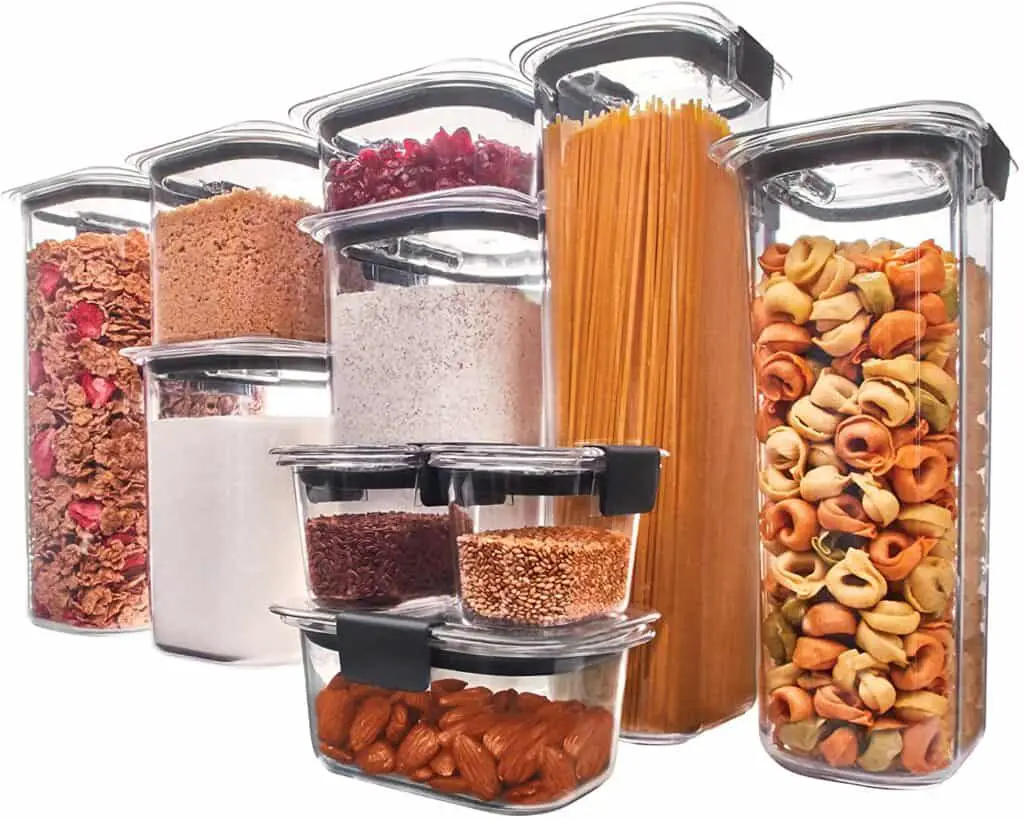 Rubbermaid Brilliance Pantry Organization Food Storage Set
What makes these Rubbermaid food storage containers the best for the pantry?
Clear & See Through
Clearly see your food from all angles!
Airtight & Leak Resistant
2-latch design provides airtight seal
Stackable
Containers Stack well maximizing the space in fridge and pantry
This Rubbermaid food storage container set has all of the essential qualities that I mentioned above which makes it the best food storage container for any pantry. It stacks well, comes in convenient sizes, has airtight sealing lids, a see-through body, is tough and durable, and you can safely use them in the freezer, dishwasher, and microwave.
Size, Length, Width, and Height of Rubbermaid Brilliance Pantry food storage set
| | | | |
| --- | --- | --- | --- |
| Container Size | Length | Width | Height |
| 19.9 cup | 7.9″ | 5.4″ | 11.7" |
| 16 cup | 7.9″ | 5.4″ | 9.4″ |
| 12 cup | 7.9″ | 5.4" | 7.1″ |
| 8.1 cup | 3.8″ | 5.6″ | 11.7″ |
| 7.8 cup | 7.9″ | 5.4″ | 4.8″ |
| 6.6 cu | 3.8″ | 5.6″ | 9.4″ |
| 3.2 cup | 7.9″ | 5.4″ | 2.5″ |
| 1.3 cup | 5.6″ | 3.8″ | 2.5″ |
| 0.5 cup | 3.8″ | 2.7″ | 2.4″ |
I've been doing a lot of baking and home cooking to cut the cost of going out to eat. So I developed a big collection of ingredients that slowly started to get crammed into various cabinets. When I did my spring cleaning I found that a lot of items were no longer fresh and I had purchased multiples of certain items because I could not see everything clearly in my cabinet. The Rubbermaid food storage containers totally changed that. I know these are truly airtight because my brown sugar is just as fresh as the day I opened the bag. No more rock hard brown sugar! Yay! No issues with cracks or weird imperfections. The spaghetti container holds 3 full boxes of spaghetti. So I basically was able to organize 2 of my cabinets into 1. I love that these are crystal clear. The other containers I was considering looked a touch cloudy. These are like looking through the cleanest of glass. I cannot wait to buy more and do my other cabinets. Highly recommend!

Review
The BEST Pantry Food Storage Container for Cereal 
SESENO Large Cereal & Dry Food Storage Containers
Until the cereal makers start packaging cereal in a resealable bag, a container is your best option for freshness. This Senseno Cereal Dispenser is helpful because it not only stores cereal but also has a side-locking lid to seal the container, which makes it easy to pour cereal into your bowl without any spills. For those that have kids, this kid-friendly pour spout is particularly helpful. 
These perfectly fit a regular box of cereal and keep it tasting fresh. I also use them to store our rice now, which is why I ordered more. The lid fits tight so you don't need to worry about things leaking or unwanted intruders getting into your food.

Review
Pros:
Airtight
Keeps cereal pretty fresh
Easy to clean by hand
Con:
technically dishwasher safe but these may not fit in small dishwashers.
The BEST Glass Food Storage Container for the Pantry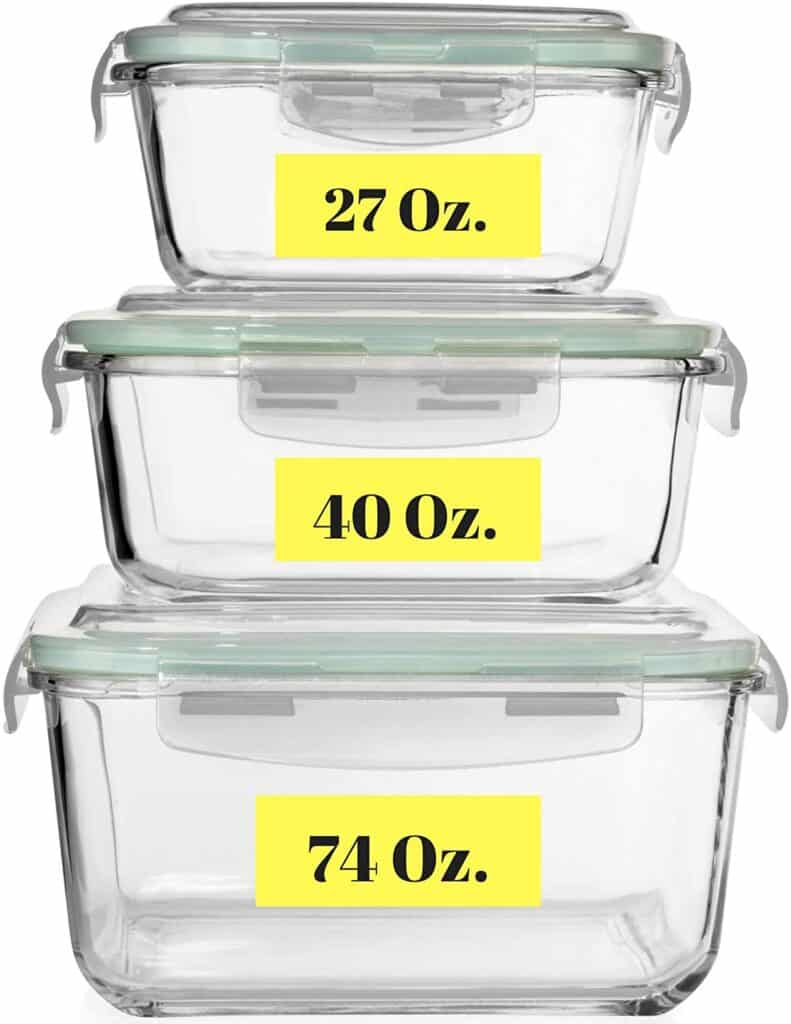 Razab Extra Large Glass Food Storage Containers with Airtight Lid
"I love the locking lids and I really liked the size/shape/depth of the containers. They are roomier than they look. I also like the doming of the lids; most other lids indent or are flush with the top of the canister, these lids dome a bit to allow a little extra room for airflow or an extra dollop of contents inside of each container. I'd purchase them again!"

Review
The BEST pantry food storage containers are the containers that have all of these qualities: 
Stack well
Convenient sizes
Airtight Sealing lids
See-through containers
Tough and Durable 
Freezer, dishwasher, and microwave safe
They stack well together!
As you can see in the picture they stack well and make your pantry feel super clean and spacious. It is absolutely amazing to open your pantry and find full shelves that are neatly and tightly organized. These containers fit well together and because of the different heights, it is simple to find various ways to stack them that make the most out of your self space regardless of the specific heights in between your selves.
The food containers come in convenient sizes
This storage container set comes with 9 different sizes which allows you to stack them in a variety of ways and you can fit them in numerous places. It is helpful to know the exact sizes (measurements) of containers before you buy them so see the sizes laid out by length, width, and height of the rubbermaid containers in the table above.
Containers must come with Airtight Sealing Lids
In order to keep food fresher for longer, it is absolutely, without question, necessary that you get food storage containers that have airtight lids. We tested these Rubbermaid containers out by nearly filling them with water and then shaking them up and leaving them for hours sitting upside down and on all sides. We had positive results because not a drop of water came out of any of them!
What peace of mind to know that I can fill one of these containers with flour and other dry foods and not have to worry about any air flow carrying contaminates or anything in and out of the containers. My food will stay fresher for as long as possible, well without vacuum sealing them which isn't possible with these containers, sadly.
See through containers
Most containers are see through but I listed it as a qualification for safety reasons. Being able to see the food in a container from all sides allows you to more easily detect if the food has any contaminants in it or has gone bad. I can't tell you how many times I've been able to detect that there was mold in my food just by looking through the container without even opening it. Saves my nose because I don't have to smell it.
Our recommended list of containers are tough and durable
All of the containers that we are recommending are both tough and durable. The most extensive testing that we did were on the Rubbermaid containers. We filled each container with water and tossed them around and there was no leak. We also filled each container half way with beans or rice and pushed them off of the counter. Each held up pretty well. Some of the lids popped off but all of the air tight sealing lids were still airtight and still didn't leak any water.
Freezer, dishwasher, and microwave safe
All the containers on our list are good to safely use in the freezer, dishwasher, and microwave. The one exception is the cereal containers probably aren't the best option in the microwave or freezer, but why would you use them in either of those anyway. Now some people believe that you shouldn't use plastic containers in the microwave, but both the Rubbermaid and OXO containers claim to be safe to use in the microwave. We have used them in the microwave and dishwasher many times now and have found them to have the same rigid, and tough interior and exterior as the day we bought them. We haven't found any signs of deform, or damage. Additionally, they still held an airtight and watertight seal.